Simon Nielsen is a Danish professional player. Best known for winning the 2014 World Magic Cup as a member of the Danish national team, at which he famously turned around a seemingly unwinnable game by topdecking the one-of Duneblast (dubbed the "Daneblast") in a crucial situation.[1] Nielsen also has four Grand Prix top eight finishes, and his best Pro Tour result is a 10th-place finish at PT Eldritch Moon in 2016.mtg.gamepedia.com
Nickname
RedButtonTie
Born
June 30, 1994
Residence
Copenhagen, Denmark
Nationality
Danish
Pro Tour debut
PT Fate Reforged 2015
Pro Tour top 8s
0
Grand Prix top 8s
4 (0 wins)
Median Pro Tour Finish
110
Pro Tours Played
11
Lifetime Pro Points
117 (as of 2017-11-28)
source
mtg.gamepedia.com
Many people might know you as a curly-haired dude wearing silly clothes at Grand Prix and Pro Tours, but I want to hear some background story. Do you remember the turning point where you evolved from a casual player to an aspiring high level player?
As with most evolution over time, I can't pinpoint an exact spot where I "leveled up", though back in the beginning of 2011 when I had just started playing (and told myself that I wouldn't want to invest anything into Magic. Yeah, right…) I randomly tripped over the Top 8 coverage of Pro Tour Paris online and watched it all in one go. I was hooked. I thought it was really cool what I saw Ben Stark and Paul Rietzl do – play this game at a high competitive level – and I wanted to do that too.
Since then, I remember some crucial moments in my ascension towards the Pro Circuit. Going to my first FNM where I met Martin Müller, experiencing a Grand Prix for the first time, winning a WMCQ with my own deck and subsequently winning that World Magic Cup, being accepted into team EUreka when it was still in its infancy, and making a deep run in Pro Tour Kyoto to miraculously hit Gold.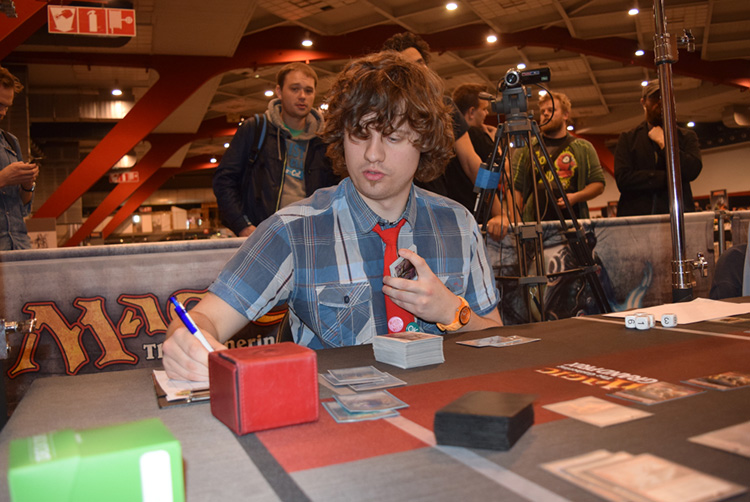 Simon Nielsen vs. Antonio Castellani
You have jokingly talked about your self as the luckiest player in the world numerous times. Can you share your view on variance, skill and dedication and talk about how they each contribute to becoming a professional Magic player?
To me, these three elements are highly intertwined. I obviously can't be the world's luckiest player, because there is no such thing, but since the beginning I've been quite good at focusing on when I get lucky instead of the times I am unfortunate and devote most of my attention to what I actually can control. It's no secret that you need to get lucky to win a tournament, but I do think there is a way to somewhat control that luck.
Let's imagine that you play a game where all you need to do is roll two sixes with two dice. You wouldn't just roll the dice once, hope to get lucky and complain if you don't. You wouldn't even settle for 10 rolls, you'd just keep rolling until you eventually get there. And it's basically the same thing you need to do with Magic. Attend as many PPTQs or Grand Prix as you can, eventually you're bound to win or top 8 one.
But some players might actually never get there, because the other thing you need to do is work on your game and improve your skill. Sort out your ingame mistakes, ask better players for advice and learn from their strategy, do plenty of smart testing, preferably daily. Only by combining the constant improvement and the infinite persistance will you reach your goals.
Some might say that I got pretty lucky to get on the train so easily, and while I do think I've hit some great strides along the way, I've also put a ridiculous amount of work and time into this game. I do believe that once you reach a certain level where you've played some RPTQs and gotten deep into some Grand Prix day 2's, if you dedicate yourself to get there and you work hard and smart, you're favored to hit Gold within 3-4 years. That might just be survivorship bias, though.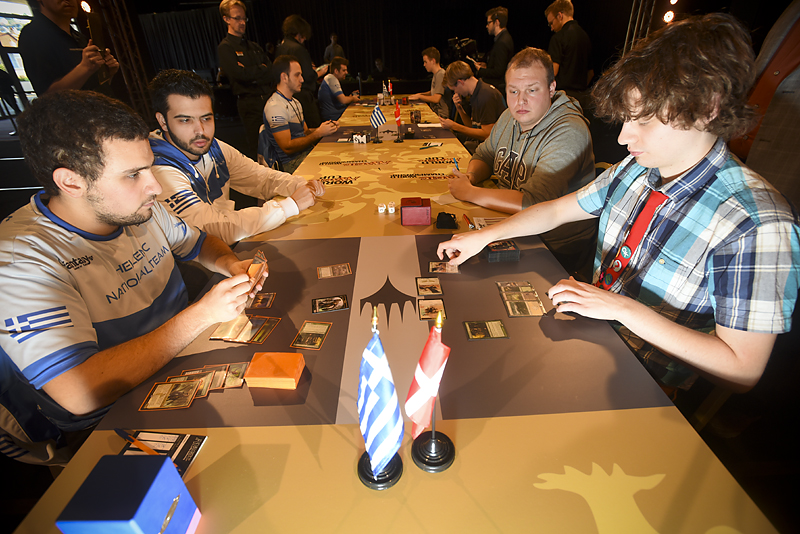 Finals: Denmark vs. Greece
Testing for important tournaments, most players do it in teams. Please tell us about the role(s) you have had on the various teams you have been a part of.
I've been joking that my role on Team EUreka was that if anyone 0-3'd a team draft and felt bad about themselves, they could always just like at me, throw a comment or two, and all of a sudden feel much better.
Out of my 11 Pro Tour appearances I've been rogue teams twice and otherwise on superteams like EUreka and MTG Mintcard. And honestly, I often doubt how I could end up on these teams, especially EUreka since back then I was clearly one of the worst players on the team. But I just got on the team when it wasn't that serious and kept requalifying for the Pro Tour to stay on. But I worked hard and I'm friendly enough that everybody likes me.
So that has mostly been my role, just the hard worker who could easily play Magic for 12-14 hours a day. When I got on Mintcard I had grown a lot as a player and I feel like I contribute more and also help with organisation. Even though I still am one of the weaker links on Mintcard it feels like it's much more justified that I am on their team. And I've grown really close with some of the players, especially the ones from Australia and New Zealand, so being on the team is just as much about friendship as it is professional Magic.
Going for Gold Again: Team Denmark
Wizards of the Coast seems to favor team tournaments moving forward. In your opinion, what are the pros and cons of individual and team tournaments respectively?
Team Sealed is one of my favorite formats, even though it has dawned on me recently that I'm not actually very good at it. I've also quite enjoyed Team Modern as it takes out the pairings-based variance that is one of the bigger problems with Modern, as you get 3 pairings per round to water it out, not just one.
And playing with friends is always awesome, you win together, you lose together. But there can be such a thing as too much, as it's a bit of a hustle sometimes to find teammates, and losing to your own mistakes feels especially bad when you also let your teammates down. I'm looking forward to the next half a year with curiosity, but it wouldn't surprise me if I'm tired of team tournaments next August.
Speaking about their team focus, what does the Team Series on the Pro Tour mean for you playing?
To be honest I'm not too hyped about the Team series. Last season I decided to stay out of it to not bother with binding myself to a testing team, getting shirts etc. for the miniscule upside that I might be in the top 2 teams. Also, where was I going to find 5 other people who'd want to wear the tie?
But after hanging out with some of the guys from Team Lingering Souls I got to see their excitement as they qualified for an extra Pro Tour through the Team Series. So this year I wanna partake in that excitement to see your teammates do well and also try to qualify my friends Zen Takahashi and Anthony Lee for the Pro Tour. We had a very bad first Pro Tour in Alburquerque, where all our Gold players missed Day 2 and only Anthony got extra Pro points with Onwards/Victory on Carnage Tyrant.

Fast forward two years from now. Where do you see Magic as a whole and your career at that point?
It's always to tell what's going to happen in the future, but I would hope and expect that I've settled into a temporary lifestyle as a professional Magic Player. It's really exciting for me to watch players like Pascal Maynard and Sam Pardee reach PT final after PT final, because 3-4 years ago they were in kinda the same spot I'm in now: hard workers who aren't necessarily naturally talented but who just started to top 8 Grand Prix more or less regularly.
Now they're both forces to be reckoned with on the Pro Tour scene and hopefully that will be the future I have ahead of me if I keep working hard.
Quarter Finals: Denmark vs. Serbia
Which are the three next important tournaments on your schedule and what are your expectations like?
Now I have a bit of a Christmas/New Years lull before the season starts up again with Pro Tour Bilbao and Grand Prix London before that. I like Modern a lot and expect to play the format a ton during the next month to be ready for it. I think I'm in a good spot to get that 11-5 I need to lock up Gold for another season. As far as Limited goes, Mintcard has been doing a great job of providing me with the Limited intel I need to do well in these events, so hopefully that continues.
I haven't looked at the Grand Prix schedule after the Pro Tour, so that's a worry for another day. But before I leave for London, Zen Takahashi comes and visits me in Denmark, which I am very excited about!

Thanks a lot, and best of luck at the upcoming events! Feel free to mention sponsors, thank your mom or leave your twitter handle.
If you'd want to read more from me, I write articles for mtgmintcard.com. My most recommended pieces are "How to become the Worlds Luckiest Magic Player" and "All your invalid excuses"